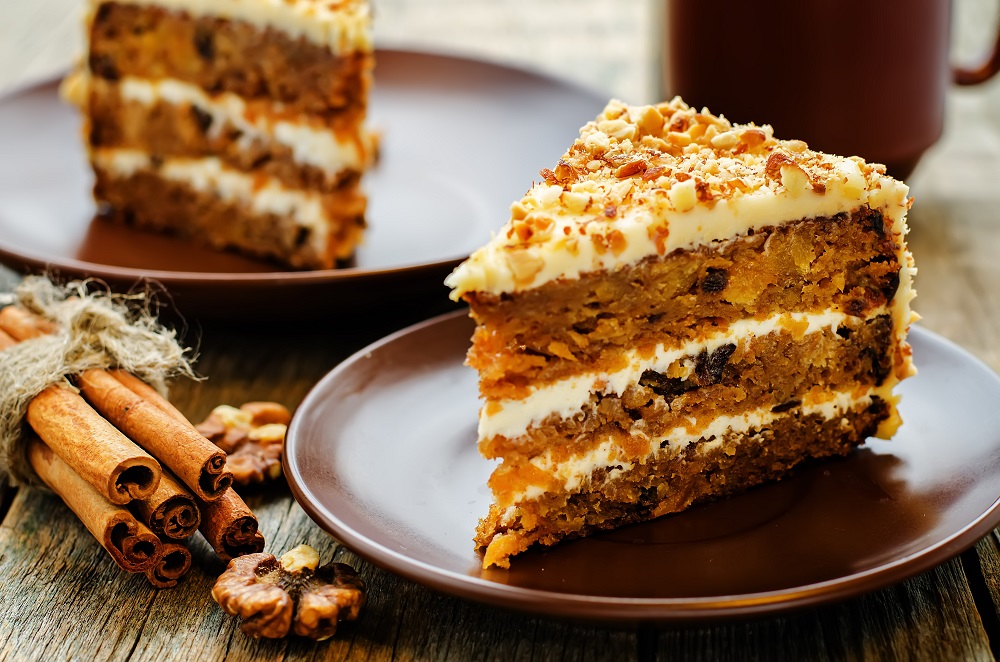 INGREDIENTS
Carrot Cake:
420 g all-purpose flour
300 ml walnut or hazelnut oil
200 g Almitas Erythritol 
200 g Almitas Erythritol 
6 large eggs
450 g fresh carrot (grated)
1 tbsp ground cinnamon
1 tbsp vanilla extract
2 tsp baking soda
2 tsp himalayan salt (fine)
1 tsp baking powder
1/4 teaspoon ground cloves
1/2 teaspoon ground nutmeg
optional: 1 cup chopped nuts or 1/2 cup raisins
Frosting:
675 g cream cheese
227 g butter (salted, softened)
600 g Almitas Erythritol (powdered)
1 tbsp vanilla extract
1/2 tsp himalayan salt (fine)
Optional: roasted, chopped walnuts

PREPARATION
Cake:
Preheat oven to 180°C. 
First, mix together the wet ingredients plus erythritol with an electric hand mixer. Blend until
homogeneous. Mix together dry ingredients in another bowl, then add gradually to the wet
mixture. Stir it with a wooden spoon. Finally add the grated fresh carrot and strin it properly.
Grease three, 8-inch diameter, round cake tins with butter and line their bottom with baking
paper. Pour the batter evenly into the three tins. Bake for 25-30 minutes. Remove the tins
from the oven and let he cakes cool down.
Frosting:
Mix cream cheese, butter and vanilla with an electric hand mixer, then add erythritol and keep
mixing until it becomes smooth.
Last step:
Take the first cake and slice off the top if it is not flat enough. Pile about third of cream on top
and spread it evenly. Do it again with the second and third layer, then finish with spreading
the remaining frosting all over the cake evenly with a spatula.
You could sprinkle roasted, chopped walnuts on top to spice it up a little.