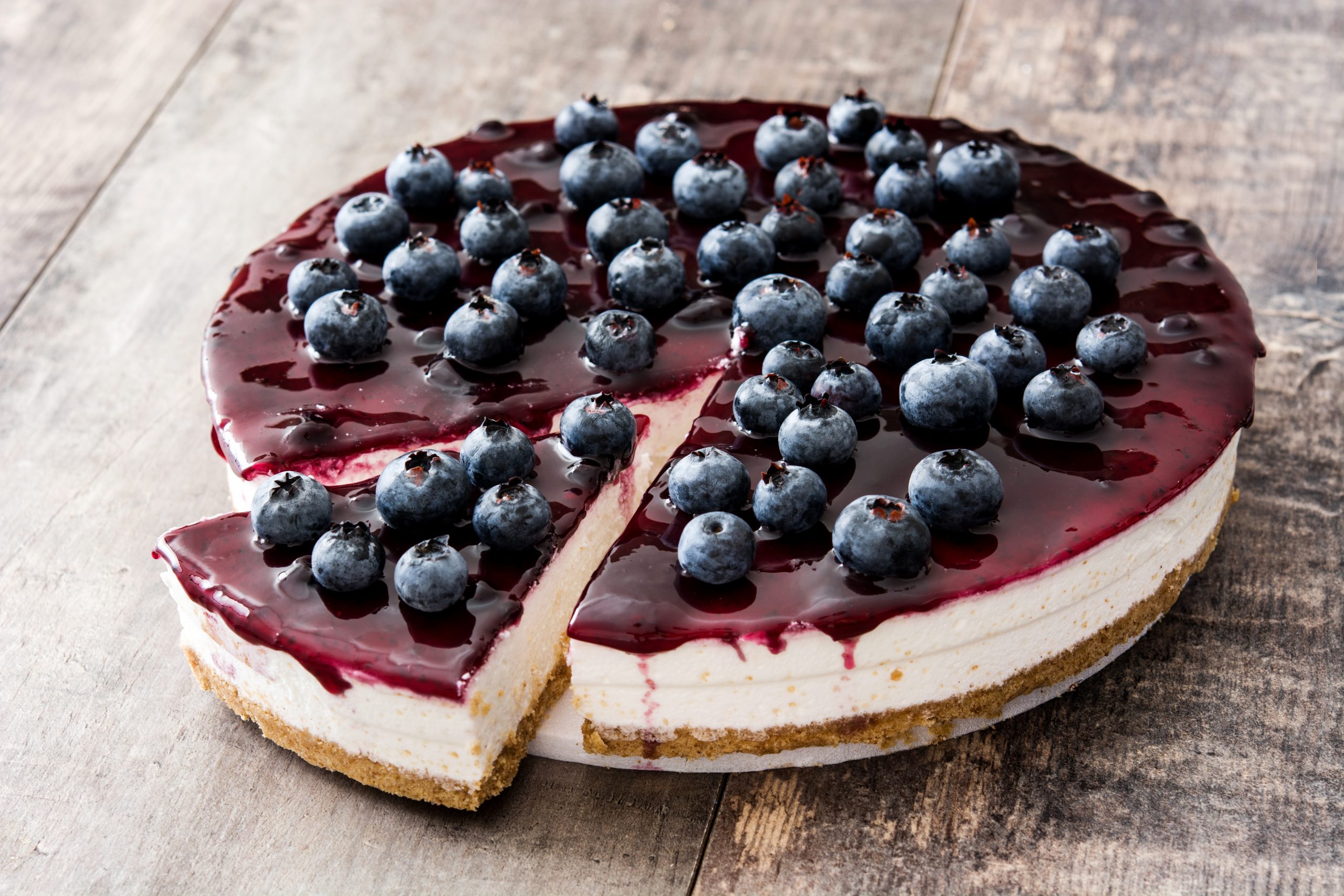 Ingredients:
For crust
235 g biscuit crumbs
115 g butter (unsalted, melted)
70 g Almitas erythritol
For filling
900 g cream cheese
350 g Almitas erythritol (powder)
33 g all purpose flour
5 large eggs
450 ml sour cream
235 ml milk
1 tbsp vanilla extract
For topping – home made blueberry sauce (or purchased sugarfree bluberry sauce)
1 cup fresh or frozen bluberries
60 ml water
50 g Almitas erythritol
1 tbsp fresh lemon juice
1 tbsp starch mixed with 1 tbsp water
1 tsp lemon zest
few drops of vanilla extract
HOW TO MAKE IT:
Crust:
Put all ingredients in a processor and blend it until it becomes homogenic and moist. Get a 10
inch-diameter springform pan and line it properly with strong foil. Scoop all the mixture into
the pan and press it onto the bottom. This will be the bottom layer of your cake. Now, you put
it into the oven and bake it on 180°C for about 10 minutes. Be careful, do not let your crust
getting dark brown. Take the crust out and let it cool.
Filling:
Whisk cream cheese and erythritol in a bowl with an electric hand mixer. Add flour, eggs,
sour cream and vanilla, one ofter the other. Mix it properly. Scoop the mixture onto the crust
and place springform pan in a roasting pan. Pour 500 ml hot water into roasting pan. Bake the
cake until top rises a little bit and turns into golden brown. It takes about an hour, After that,
turn off the oven and leave the cake there for another hour.
Take out your cake and when it's cooled down, cover it with foil and place in the fridge
overnight.
Topping:
Combine bluberries, water, erythritol and lemon juice in a suacepan over medium heat and
bring it to a low boil.
Mix starch and water in a small bowl and slowly stir it into the blueberry mixture. Simmer it
until thick enough to be able to spread. Remove from heat, add vannila and lemon zest and
give it a final, proper stir. Let it cool down and spread over the top of cake before serving.
You can place fresh blueberries on top if you'd like.