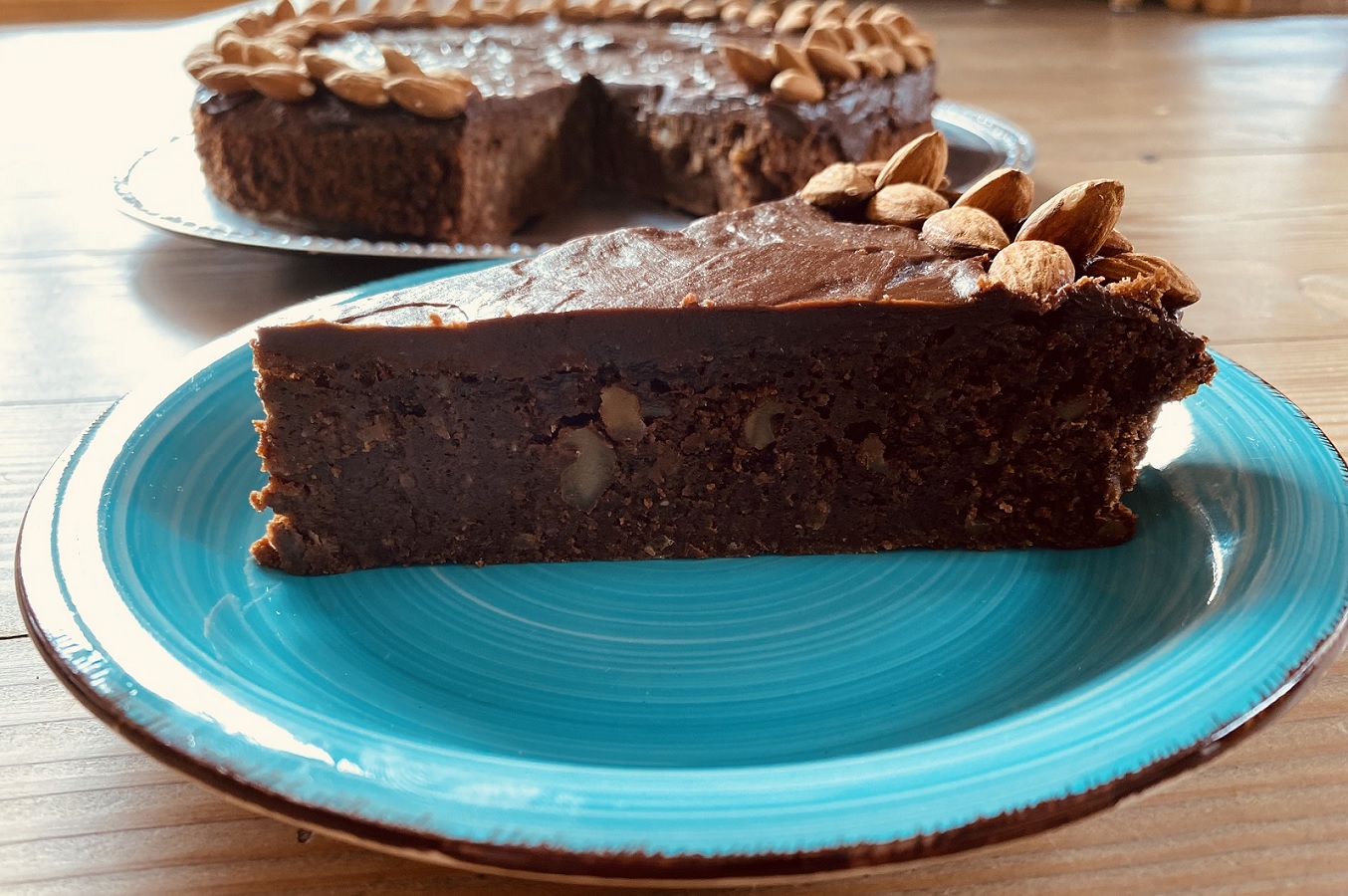 Ingredients
Torte:
1 1/2 cup walnuts
3/4 cup Almitas Erythritol
1/4 cup cocoa powder
1 tsp espresso powder 
1/2 tsp baking powder
1/4 tsp salt
1/2 cup butter or coconut cream (85%)
4 ounces unsweetened chocolate
5 large eggs
1/2 tsp vanilla extract
1/2 cup cashew milk
Glaze:
1/2 cup whipping cream/coconut cream (85%)
2 1/2 ounces sugar-free dark chocolate chopped
1/3 cup walnut or almond pieces
Instructions
Torte:
Preheat oven to 325F and grease a 9-inch round baking pan. Line the bottom with parchment paper and grease the paper.
In a food processor, process walnuts until finely ground. Add sweetener, cocoa powder, espresso powder, baking powder, and salt and pulse a few times to combine.
In a large saucepan set over low heat, melt butter and chocolate together until smooth. Remove from heat and whisk in eggs and vanilla extract. Add cashew milk and whisk until mixture smooths out. Stir in walnut mixture until well combined.
Spread batter in prepared baking pan and bake about 30 minutes, until edges are set but center still looks slightly wet. Let cool 15 minutes in pan, then invert onto a wire rack to cool completely. Remove parchment paper.
Glaze:
In a small saucepan over medium heat, bring cream or coconut cream to just a simmer. Remove from heat and add chopped chocolate. Let sit to melt 5 minutes, then whisk until smooth.
Cool another 10 minutes, then pour the glaze over the cake, smoothing the sides. Sprinkle top with walnut or almond pieces and chill until chocolate is firm, about 30 minutes.